townhouse – English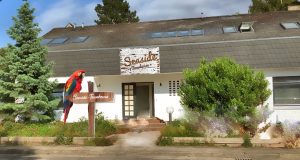 Beach holidays in a cosy and relaxing place
Located in a quiet cul-de-saq our town house is situated next door to the town gardens. The beach and promenade is only a short walk away.
Mindfulness, Awareness, Slowing-downnd Urlaub in gemütlicher und ruhiger Atmosphäre.
At our two seaside houses we are promoting mindfulness, awareness and slowing down.
The new, shabby-chic style Seaside Townhouse caters especially for younger people and families. Most of our 11 cosy rooms have a mini kitchen and a terrace for the evening BBQ. Some rooms may be combined to bigger apartments with 2 to 4 rooms. It's only 10 minutes or 650 metres as the crow flies to the beach. Despite its central location near the Timmendorf square the townhouse is in a very quiet area and allows you to slow-down and relax. For those booked in a room without balcony you are invited to read and relax in one of the beach chairs on the front garden's mini beach.
Timmendorf Beach has got it all: the longest beach in the Schleswig-Holstein region, lots of ocean, entertainment, lifestyle, premium shopping, nightlife, wellness, gourmet restaurants and many exciting events and entertainment. Niendorf, the 'little sister' town has a fabulous little harbour, lots of maritime charm and tranquillity. Nature is all around. Untouched nature meets yellow flowering rapeseed fields, long tree-lined avenues, magical places and extensive protected areas for you to explore on foot or per bicycle.
---
We are looking forward to seeing you soon.
Take care and stay safe.
Your Seaside team